This year's Jimmy Watson winner is a sumptuous Tasmanian pinot noir to rival the great wines of Burgundy, writes Des Houghton.
Des Houghton Sky News Australia Wine and Travel Editor
A red wine that won the most prestigious wine award in Australia was made from fruit from a vineyard that was nearly ripped out four years ago for a housing estate.
Lowestoft La Maison Pinot Noir 2022 from Tasmania last week won the Jimmy Watson Memorial Trophy for the best young red at the Melbourne Royal Wine Awards, the nation's most important show.
Western Australia richlister Peter Fogarty saved the historic Lowestoft vineyard near Hobart when he purchased it in 2019 ahead of a group of property developers.
It was a sentimental purchase for Fogarty whose forebears arrived in Tasmania from Ireland in the mid-1800s.
Liam McElhinney in the Lowestoft vineyard. Picture: Supplied
The deal included stately Lowestoft homestead built between 1839 and 1850.
The property rests on the banks of the Derwent River and overlooks MONA, the Museum of Old and New Art.
The winning wine was made by Liam McElhinney, a Kiwi.
The 44-year-old from Marlborough in New Zealand is frequently in the winner's circle for his pinot. He and his wife Gemma and two of their four children live in the historic homestead.
McElhinney thought he had made a good wine but confessed he was frequently plagued with self-doubts about whether or not he had done all he could to coax the best flavour from his fruit.
The judges certainly thought so.
As well as awarding the La Maison the "Jimmy" it was for the third year running named as the best pinto presented.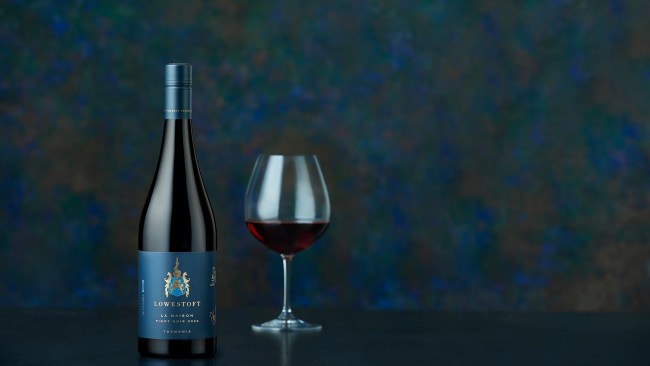 Lowestoft La Maison Pinot Noir 2022 from Tasmania last week was crowned the best young red at the Melbourne Royal Wine Awards, the nation's most important show. Picture: Supplied
Lowestoft's victory further enhances Tasmania's reputation as a leading producer of pinot.
McElhinney said a cold and wet leadup to the growing season hampered flowering and reduced yields by at least a third. However, this may have had a beneficial effect with a cooler ripening period producing wine with intense fruit concentration, slightly higher acidity, and greater elegance and finesse.
His tasting notes describe the aromas as "intensely perfumed dark cherry, black tea, dried sage and amaro aromas".
On the palate the wine shows "seductive red fruits" and "a line of graphite and bergamot tea, with lingering dried herbs, orange peel, and cherry fruit".
"Tannin and oak spice linger on the palate," he added.
As well as Lowestoft Wines the Fogarty Wine Group has boutique wineries scattered around the country including Deep Woods Estate in the Margaret River, Dalwhinnie Wines in Victoria's Pyrenees and Lake's Folly in the NSW Hunter Valley.
Australia has reached a deal that could pave the way for wine tariffs to be scrapped. "Everyone eventually realises they need more Australian wine," Brokenwood senior winemaker Stuart Hordern said about the announcement. "Losing a market as…
Julian Langworthy, the winemaking supremo for the Fogarty Wine Group praised McElhinney and said his wine was paradoxically juicy and fresh despite its dense colour, structure and intense flavour.
He likened it to the wine to those made in Burgundy, perhaps from the fabled commune Gevrey-Chambertin where archaeological digs have been able to find Gallo-Roman vines dating back to the 1st Century BC.
Pinot has only won the Jimmy twice before; the first time by Yabby Lake Winery in 2013 and then Home Hill Winery in 2015.
The Melbourne wine show had 13 entries when it was established in 1884.
This year there were 2,425 entries from more than 420 wineries across the country. Melanie Chester, the chair of judges, said her team of 35 judges had to taste 100 wines a day over five days.
They awarded 1197 medals, including 180 Gold, 296 Silver and 721 Bronze.
Calabria Family Wines hit the bullseye three times with one shot.
The best shiraz trophy went to the Calabria's McWilliams Single Vineyard 2022 Shiraz from fruit harvested north of Canberra at the Quarry Hill vineyard south of Murrumbateman.
The same wine picked up two more trophies for the best single vineyard wine and the best shiraz from NSW.
Handpicked Wines from Victoria's Yarra Valley collected two trophies for the same wine.
Handpicked Wines 2022 Wombat Creek Chardonnay was named best young white and best Victorian chardonnay.
The trophy for the best riesling went to South Australia's Nothing in Common Brothers at War 2023 Eden Valley Chardonnay
Other highlights: Best Cabernet Sauvignon Hamelin Bay 2022 Margaret River Cabernet.
Best semillon: Tyrrell's Belford Semillon 2017.
Best rose: Turkey Flat 2023 Barossa Valley Rose.
Best sparkling: Freycinet Vineyard Radenti Vintage Cuvee 2016 Chardonnay-Pinot Noir.
Best Sweet Wine: De Bortoli 2019 Noble One.
This article first appeared here: https://www.skynews.com.au/
_______________________________________________________________
Looking for an online retailer of quality Australian Wines? The lifestyle team have had great service and experiences with iHeartWine Australia.
iHeartWine Australia is the store for Australian wine lovers who are looking for quality, value for money and greatness from bottles of wine. They only stock wines they want to drink themselves and hand pick the best expressions from Australia and the world that meet their high standards. iHeartWine Australia are entirely online, sell direct on behalf of independent Australian wineries and have iHeartWine Australia's own private cellar that is full of rare and collectible wines that website visitors won't find anywhere else.
iHeartWine Australia is the only wine retailer in Australia that links the best independent wineries directly to consumers and champions luxury wines. Their message is drink less, drink thoughtfully and drink better.
Learn more about iHeartWine Australia by visiting their website here: https://www.iheartwine.com.au/